The "HOW TO" of Udu Instructional DVD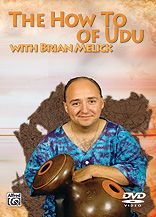 The HOW TO of Udu Instructional DVD
I am very excited that Alfred Publishing re-released my "The HOW TO of Udu" instructional video as a DVD. Digitally re-mastered and produced I am thrilled that more individuals who have been very kind and patiently waiting will now have the tool that they were asking about. I can not thank Alfred Publishing and their entire staff enough for this wonderful opportunity. 
The How to of Udu DVD is an introduction to performing on Udu drums. Presented in a user-friendly manner, author Brian Melick covers a variety of drums and techniques such as developing basic fundamental pitches, creating multiple melodic tones, exploring the various percussive qualities, hand and finger technique, pulling or drawing sound out of the drum, producing quick and slow vibrato, among others. A number of improvisational performances are included throughout the lessons to show how each of the techniques and concepts can be applied in a real musical situation. The DVD also includes a section on internal and external miking. 
I demonstrate all the technique using a tiered shape udu supported in its custom designed SoftPAW Performance stand. The DVD also highlights the sounds and textures of several different udu drums during the different improvisations that I perform. i.e. Mbwata, Udongo, Utar as well as a full set of 4 tiered udu drums so you can see and hear an example of multiple drums being used at the same time. Each one of these drums except for the excerpt of the 4 udu's together are performed on while being supported with-in the SoftPAW Performance Stand that I designed for them. If you are interested in my SoftPAW Performance Stands please visit their link by clicking on them in my store area. Thank you for your time and wishing you continued success with your musical journey. 
The cost for the DVD is: $14.99 US. Please follow the link below buy clicking on Alfred Music Publishing to view and purchase your copy today.
Thank you.  
Alfred Music Publishing Anything that you are looking for as it pertains to instructional and reference materials can be found at Alfred Music Publishing. They are one of the oldest and most respected sources for these kinds of materials. Number 1 Educational Music Publisher since 1922. Take some time and visit their incredibly diverse catalog of materials.